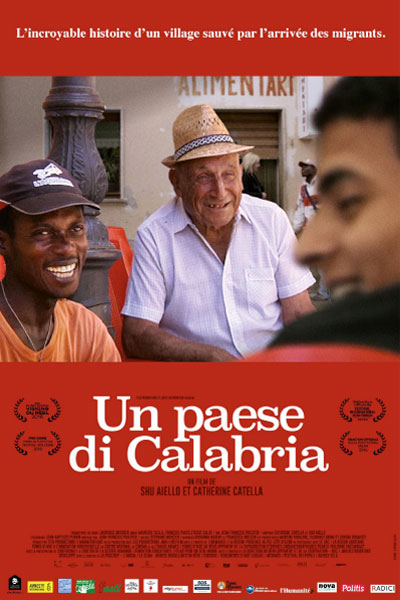 Shu Aiello & Catherine Catella | Documentaire / Documentary | 90' | 2016
(Fr) Rosa Maria a quitté le village un jour d'été 1931 pour en fuir la misère. Depuis, les gens de Riace ont regardé les maisons se couvrir de lierre et les terres s'appauvrir. Ils ont pris l'habitude de scruter la mer depuis leurs collines et continuent de chérir leurs deux saints patrons Cosma et Damiano venus d'Orient. Un jour, Baïram a accosté sur la plage de Riace avec deux cent autres kurdes. Il a décidé de s'y installer. Aujourd'hui, les gens de Riace s'appellent Roberto, Ousmane, Emilia, Mohamed. Ils ne possèdent pas grand-chose mais ils inventent au jour le jour leur destinée commune.
(En) In 1931, Rosa Maria left the village of Riace in Calabria to escape poverty. One day, Bairam docked on the beach in Riace along with two hundred other Kurdish. Today the people of Riace are called Roberto, Ousmane, Emilia, Mohamed. They don't have much but they invent daily their common destiny.